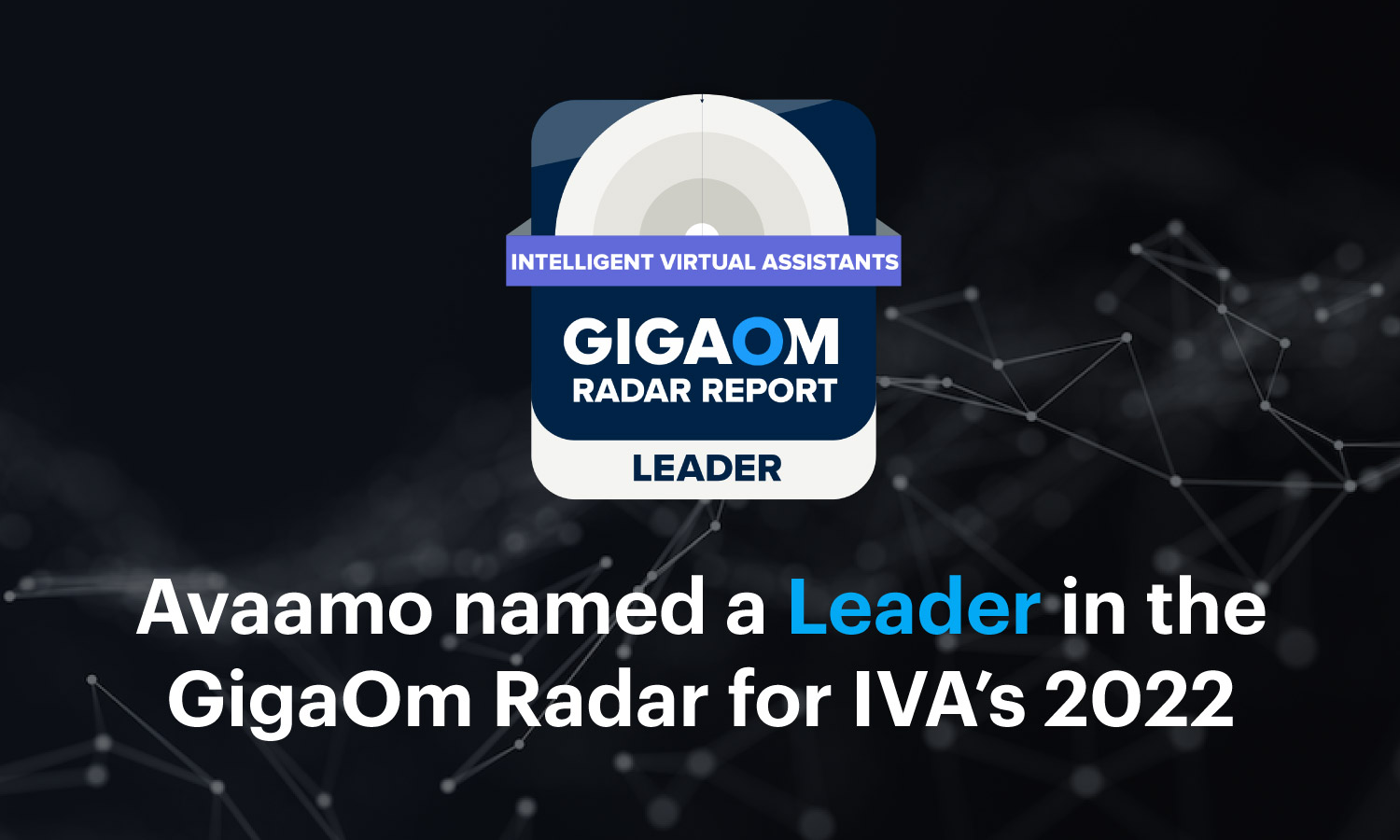 29 Jun

Avaamo is Your Conversational AI Leader – Once Again!
Avaamo has recently been named as a Leader and an Outperformer in the "GigaOm Radar for Intelligent Virtual Assistants (IVA) 2022" report. The assessment focused on measuring the execution ability and value delivered by each of the key IVA providers in the marketplace as it stands currently and how it would evolve over the next 12-18 months.
While we have been recognized as the Conversational AI category leader by several analysts, this recognition is special and different as it touches on aspects that makes our approach to the conversational AI marketplace unique and also explains why Avaamo is the platform of choice for large enterprise customers.
I am sharing three key takeaways from the report:
1. Large enterprises need a sophisticated Conversational AI Platform – not chatbots
What makes this report different is the focus on the large enterprises – most complex and exacting buyer segment. They are looking for

•  Scalability & flexibility
•  Easy integration into systems of record (SoR)
•  Global presence requiring expansive multilingual experience
•  Rigorous security and compliance requirements
At Avaamo, our relentless focus is on the large enterprises and we realize these are table stakes. We have spent the last few years listening to thousands of requests from our customers to offer an enterprise-ready conversational platform.
2. Chatbots are a cottage industry – for large enterprise, only a few fit the bill
There are over 300 companies that claim to have IVA capabilities, but very few can live up to the exacting requirements of a large enterprise buyers. GigaOm looked at this cottage industry and waded through claims and counter claims to identify the vendors for large enterprises and the list is small. Its satisfying to see that GigaOm rates Avaamo as an Outperformer even in this filtered list. Our co-founder outlines what makes us a good fit for enterprise customers in his blog here.
3. Among the few; Avaamo is an outperformer — WHY?
Delivering value to enterprise customers requires a fine balance between innovation and operational maturity and maintaining this balance over a sustained period. And therefore any assessment of tech vendors should not only look at the current capabilities, but also their future plans and product roadmap.
GigaOm carried out a comprehensive and forward-looking analysis and evaluated all vendors across 5 critical metrics, giving Avaamo
highest rating across all the metrics

for its outstanding focus and execution and positioning us as a Leader and an Outperformer.

Our validation is our customers
Avaamo is the platform of choice for world's leading companies and has seen unprecedented adoption across 50+ countries, 114 languages and over 3 billion interactions each year. To learn more about how: