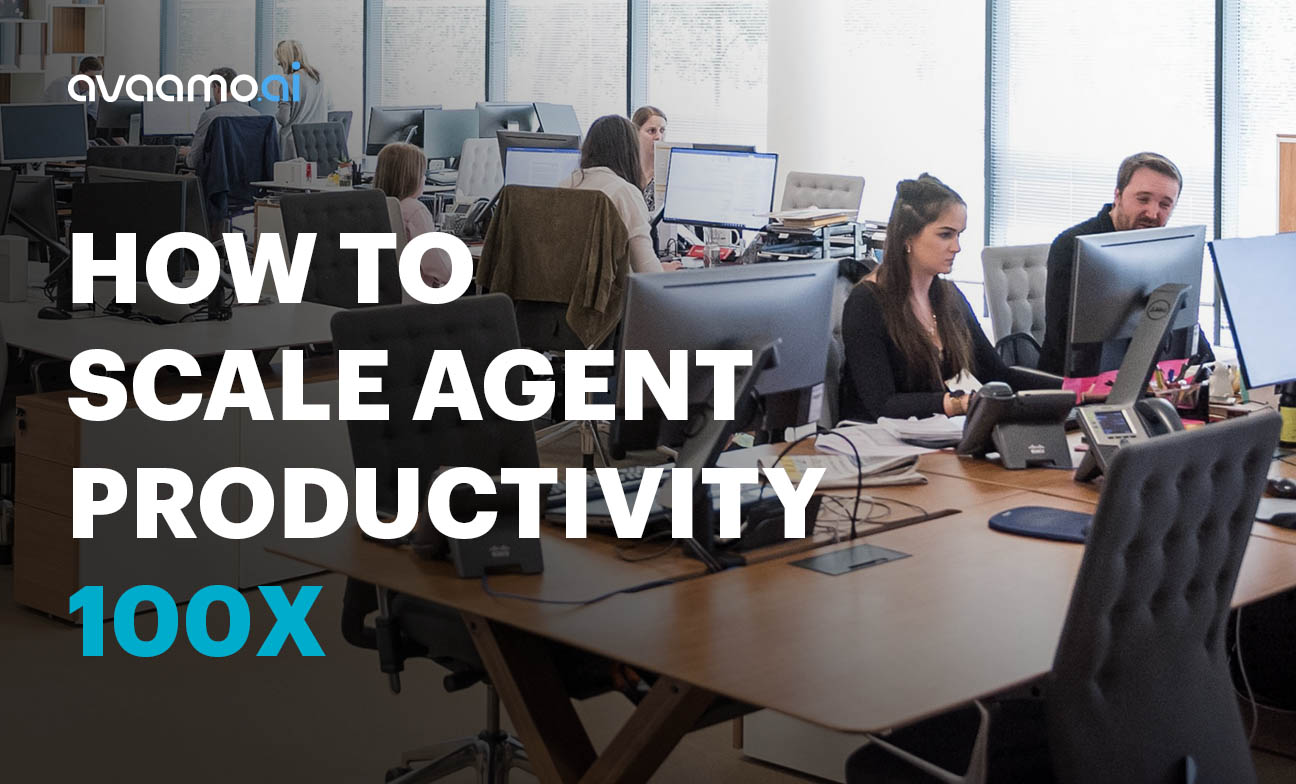 04 Jul

How to Scale Agent Productivity 100X using Intelligent Automation
Businesses can design outbound programs to convey information, make inquiries, and report issues to customers with the help of contact center automation
Outbound contact centers are marred with multiple challenges – low response and conversion rates, lack of customer engagement, disengaged human agents, inability to reach higher number of users quickly. All these issues raise questions on the efficacy and profitability of outreach campaigns. With the volume of outbound interactions expected to overtake reactive interactions by 2025, building intelligent, automated outbound programs is a necessity for contact center leaders.
Not to say that automation isn't currently used for proactive outreaches. Its role is restricted to autodialler functionality that takes customer through an Interactive Voice Response (IVR) menu before connecting with a live agent. While this automates a portion of the repetitive tasks with the workflow, challenges continue to exist on scalability front. The selection of the right agent specific to the call type and task creates resourcing issues, especially during peak hours. Also given it's a proactive outreach, potential customers expect to talk to human agents directly and any kind of wait time (and it happens more often that one would expect) is a clear cross on experience front.
Avaamo Outbound AI – Balancing CX with Scalability
The powerful Avaamo outbound AI solution is the ideal tool for scaling up your contact center productivity while delivering excellent customer experience. Avaamo Conversational AI technology combines speech synthesis, natural language understanding (NLU), and cognitive and machine learning, to help you contact 100's of customers simultaneously and have dynamic, real-time, intuitive conversations, significantly reducing the need to engage live agents. These proactive outreaches can take form of service updates, medicine refills, credit card payment reminders, appointment scheduling and claim updates.

Boost contact rates to maximize agent productivity
Low contact rates are one of the biggest challenges today for outbound programs. Contact Center AI platform drives automated filtering of voicemails, busy signals and disconnected numbers to filter out unproductive calls and ensures live agents who only speak with qualified leads. Further, it accurately matches customer requests with the appropriate agent and offers data that allows these agents to adjust their approach to each customer and maximize productivity and sales.
If the outreach program is to confirm a service appointment and the user indicates they need to change the dates, Avaamo's Contact Center AI transfers the call to the best-fit agent and passes the full context
Understand customer intent and journey context for enhanced CX
Avaamo's proprietary natural language processing (NLP) and automated speech recognition (ASR) engine engages users through natural, human‑like conversation understanding nuances and intents behind the questions and delivering personalized experience. By leveraging our Dynamic User Journeys, we can deliver interaction where context travels with the customer journey — no matter where the interaction begins or ends across channels — eliminating disjointed interaction to improve conversion rates, customer satisfaction, and customer loyalty.
For a COVID vaccination scheduling outreach, if the patient indicates that he/she has been vaccinated, the user journey dynamically switches to collecting information about the vaccine and confirms next steps
Resolve issues proactively to reduce inbound volumes
Avaamo Outbound AI solution can help your customers resolve issues before they occur by using Artificial Intelligence to spot or anticipate the issue in advance and extending support to resolve it. Avaamo Outbound AI solution can handle 100s of customer interactions at once helping scale proactive support programs to manage the mundane tasks and allows live agents to focus on complex issues
Avaamo Outbound AI solution features industry's most advanced voice AI that creates and manages outreach campaigns to improve agent productivity, enhance customer experience, and reduce inbound support requirements to accelerate KPIs. We'd love to hear from you and discuss how we can help you in your contact center automation journey.