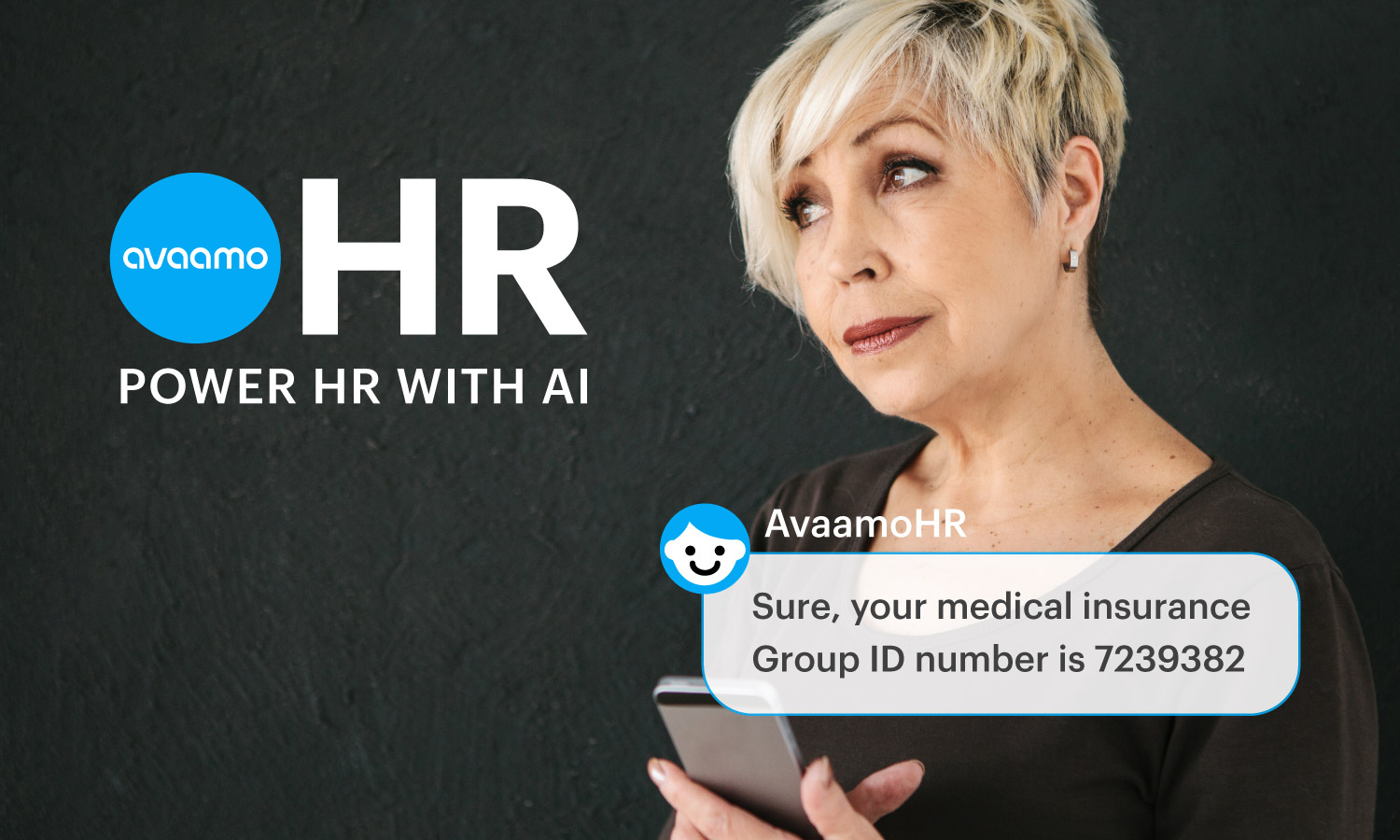 03 May

The promise of HR automation to improve employee self-service experience
Avaamo launches "AvaamoHR™"
We are excited to launch Avaamo's HR Virtual Assistant – a ready to deploy solution for enterprises. This HR Virtual Assistant solution requires no added work for the HR teams and is readily integrated with the enterprise messaging tool of choice like Microsoft teams, Slack and via the company portal or phone. Avaamo's HR Virtual Assistant provides the most accurate and personalized response to the user queries by using advanced AI techniques with our ML models automatically learning from existing content in knowledge bases and integrating with the enterprise HRMS applications.
In the last 18 months, we have worked with many enterprises across the globe and helped them to adopt to the changes and expectation in the work environment. Most organizations are adopting a hybrid workplace model which is placing unmanageable demands on HR and IT teams with requests from employees across different locations and time zones creating a need for automating employee experiences in a natural intuitive way. One effective way to optimize hybrid workforce support is using a Virtual Assistant. With more than 700k users on the Avaamo conversational AI Platform utilizing our HR Virtual Assistants, we realized the following key capabilities are a must for success.
1. Automate HR workflows not just FAQs:
HR Teams are keen to offer employee self-service that is not just limited to taking an existing set of FAQa and automating it. The Avaamo HR Assistant offers ready -to-deploy workflows such as:
•  Employee on-boarding
•  New hire approvals
•  Leave managment
Avaamo HR can significantly improve the employee experience and drastically reduce the time for these activities to be completed. Also we realized, in most cases, employees prefer self-service options to perform key HR tasks including updating and managing timesheets, retrieving and keeping their profile information current (like address, dependents etc),
2. Case resolution not just case creation:
The typical employee experience interacting with HR teams is to create a case via a form on the portal or send a request via a messaging app. In most cases the typical turnaround time is in days and often involve multiple calls. What we realized is most of these cases can be resolved without any HR team involvement. The Avaamo AI technology integrates with HRMS Applications and analyzes past cases and focusses on resolving cases instantly for users. Using Avaamo's HR Assistant, Organizations can automate Case resolution cheaper, better, faster.


3. Personalized, Localized responses:
Large enterprises with distributed teams spread across various countries, its critical to realize that the same query typically has completely different response based on your region and your role(Ex: When is my bonus payout?). Also, the way the questions are phrased are very different based on the geography (Ex: "Leave" in Asia vs "Timeoff" in US). It's critical that the virtual assistant can provide the best response based on the user context as well as understand local syntax. Avaamo HR recognizes this and can provide highly personalized responses based on the employee, country of origin and country specific policies that need to be applied to answer questions.
4. Integrated with HRMS:
Ubiquity –

Across all employee communications tools – MS Teams, Slack, voice, chat, or portal
Contextual

– Responses that are hyper-personalized to role, region, policy, or employee access.
KB Ready

– Whether its multiple SharePoint instances or a home-grown CMS.
Sync with HRMS

– Out-of-box integration with HRMS systems like Workday, SAP, etc.
5. Always up to date:
One of the main challenges HR organization faces is to ensure the employees get the most relevant and up to date information on everything from compensation and payroll to travel policies and benefits, that is localized specific to geography and personalized based on their role and work experience. Avaamo's HR solution solves this challenge by combining conversational intelligence, HR domain expertise and deep integration to various HRMS systems and existing knowledge systems enabling HR departments to ensure HR service delivery is always current.
Since the start of the pandemic, our HR Virtual Assistants have serviced more than 700,000 employees across global enterprises automating millions of queries and reducing significant time and effort for HR Teams. We have now leveraged that experience and offering a ready-to deploy HR Assistant (Workflows, Intents, Business Entities, Training data, integrations) to make it easier for HR leaders to leverage the promise of HR automation in a hybrid world.