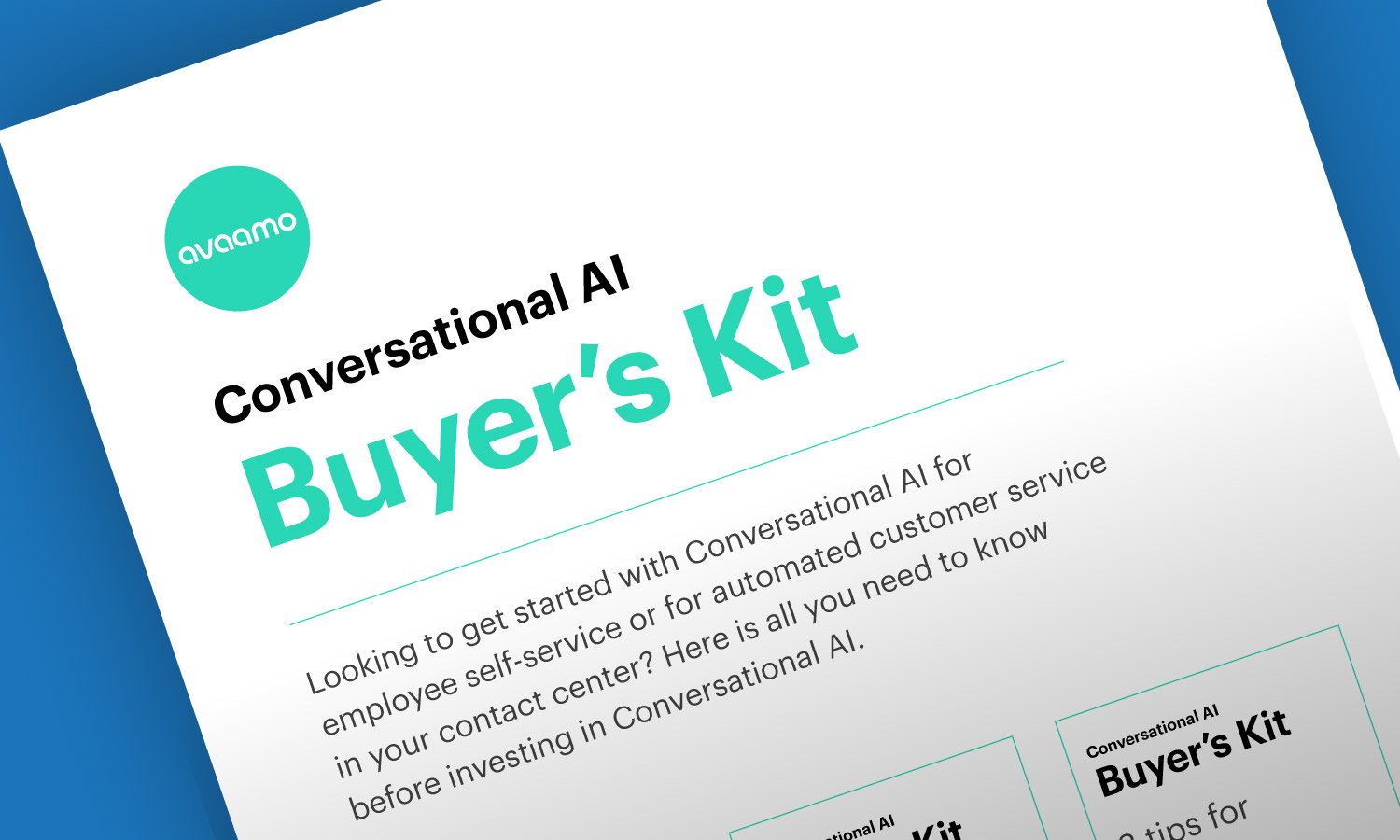 02 Nov

Conversational AI Buyer's Kit – Why you need it and how it helps
Lower costs and a better customer experience. Most business and technology leaders look for them when investing in conversational AI solution. But few are able to achieve these goals. With more than 100+ enterprise customers and being a part of in numerous buying cycles, we have tried to encapsulate what successful enterprises have done evaluating, developing and deploying conversational AI solutions.
Why we built the Conversational AI buyer's kit
Choosing the right conversational AI is not an easy task and can become unsuspectingly difficult with challenges and blind spots along the way. That's why Avaamo has created the ultimate buyer's kit to help you make an intelligent and informed decision.
How does it help?
Across the conversational AI buying process, there are multiple questions that buyers grapple with – how do I build the business case and show the ROI, what is the right use case to start with and roadmap for success, who is the right technology partner for us and what capabilities and parameters should I assess it on, how can I get unbiased reviews on products, amongst others.
Avaamo Conversational AI Buyer's Kit provides instant access to prioritization frameworks, ROI benchmarking tools, implementation playbooks, RFP templates, analysts' reviews, and much more.
What is in the Avaamo Conversational AI Buyers Kit?
Conversational AI Use Case Prioritization Guide
Success or failure of your Conversational AI project often depends on identifying the correct use case. Our Use Case Prioritization Guide to select the right use cases and build a roadmap for the future.
Playbook for Conversational AI Success
Compilation of learnings from 100's of successful customer deployments compressed into a playbook that helps you leapfrog your competitors.
Conversational AI RFP Template
Collection of the most comprehensive and essential set of topics and questions you should cover when selecting a Conversational AI platform for your business
Conversational AI Platform Reviews
Summary of unbiased views from well-established and independent research firms' and peer organizations assessing different conversational AI technology products in the market place.
Automation ROI Model
Our savings calculator will help you estimate the impact of automation at every step of the automation journey and build the business case for conversational AI investment in the contact centers.
Buyer's Checklist
Our buyer's checklist provides practical tips on how to buy the right Conversational AI technology and differentiate the hype from the capabilities that deliver value.
The process of embracing conversational AI may seem daunting, given the disruptive nature of technology and breadth of impact across stakeholder groups. Avaamo Conversational AI Buyer's Kit helps buyers choose the right conversational AI product and strategically leverage it to build a world-class customer experience.
Check out the Buyers Kit