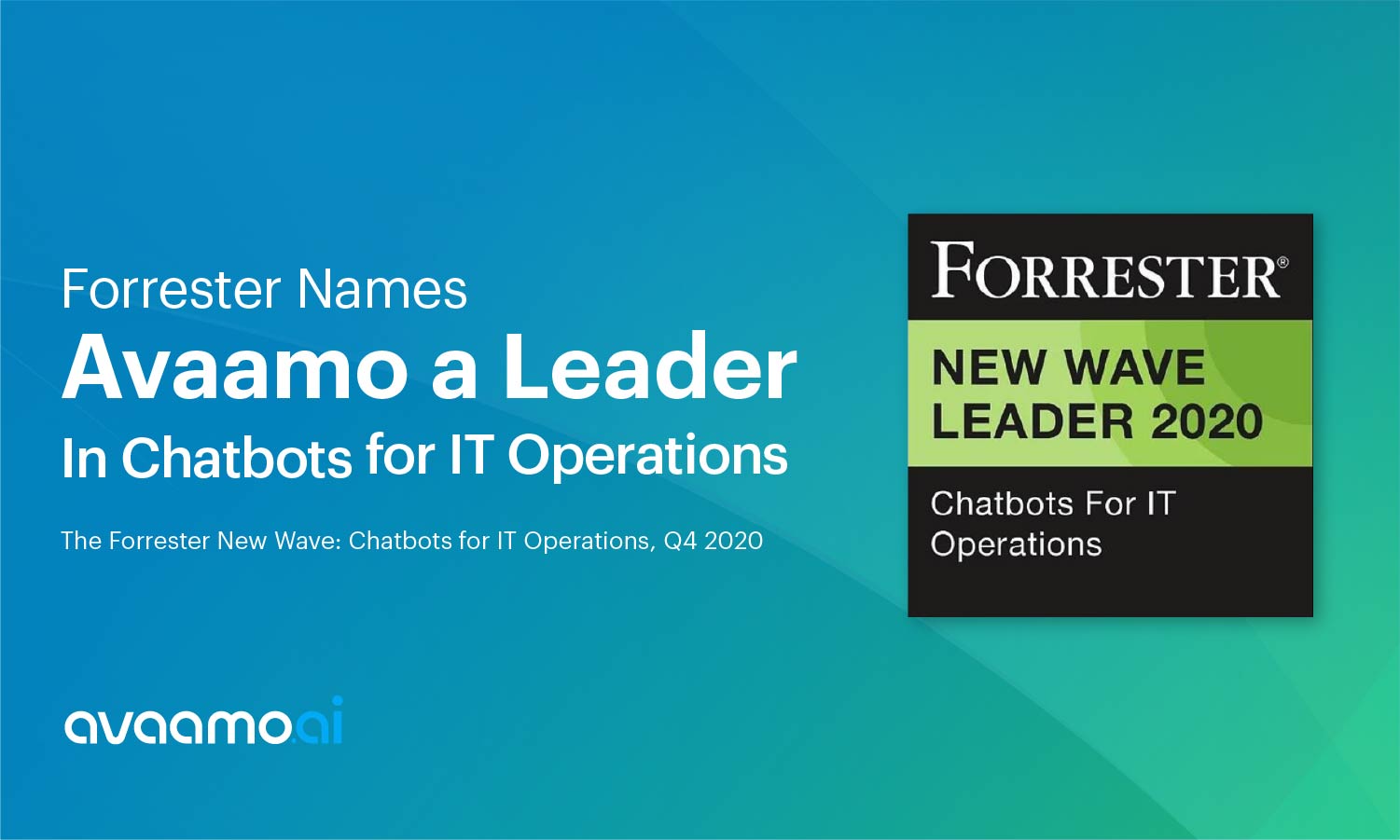 10 Nov

Avaamo named a leader in Forrester New Wave: Chatbots for IT Operations
We are proud to be recognized as a leader in the Forrester New Wave™: Chatbots for IT Operations, Q4 2020, for the second year in a row!  What makes this award even more exciting is that we moved further into the leadership position, receiving the highest marks in the survey, thus validating the continuing success and adoption our platform has had with many Fortune 1,000 enterprises.
Our Conversational AI platform received a
"differentiated" rating—the highest rating available—in eight criteria, including Language Support, Road Map, Vision, Automation Capabilities, Languages, Tooling and Integration.

Forrester also highlighted how our customers are seeing continued success in deflection and, significantly, actual resolution (90% in one case) of IT incidents before even raising a ticket.

 

Reusable enterprise skills form the key underpinnings for rapid adoption of Conversational AI in the enterprise
Enterprises looking to automate their ITSM processes are overwhelmed at the complexity involved in creating real-world, intelligent virtual agents that can effectively resolve IT tickets. Understanding this,  Avaamo have spent enormous time and effort developing the industry's first Enterprise skills.  Built for the enterprise, enterprise skills are modular, scalable, and contain all the training data of leveraged from millions of tickets resolved globally. Avaamo now has thousands of readily available prebuilt enterprise skills that come pre-packaged with training data to identifying the right intents,  intelligent flows, and pre-configured integrations — drastically reducing the time and effort it takes to deploy an intelligent ITSM virtual assistant.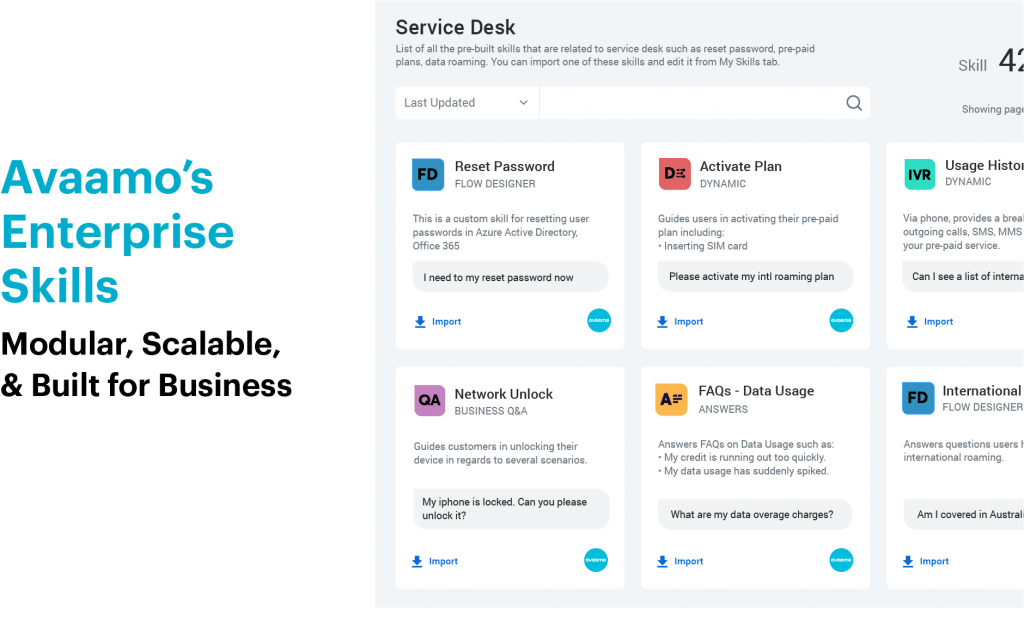 Providing significant value for customers of ITSM platforms like ServiceNow, BMC
It is really interesting to see some of the established ITSM providers like ServiceNow and BMC who have started to ramp up their efforts in this space. However, a lot of their virtual agent offerings are focused on utilizing NLU to simply automate the form-filling process of raising a ticket or get status. Though useful, they are not in the business of resolving tickets.
Avaamo's customers are very impressed with the solution, have seen significant automation benefits from adoption (one saw 90% deflection), and are expanding to new use cases.
– The Forrester New Wave™: Chatbots for IT Operations, Q4 2020
By leveraging our deep investments in our automated answering system and conversational AI, Avaamo is focused on

resolving IT incidents

before they are raised. Avaamo's service desk virtual assistants easily handles not just L0 but L1 and L2 service requests: finding precise answers from disparate content sources, unlocking accounts, provisioning hardware and software, resetting passwords, and even executing complex tasks like troubleshooting email problems or internet issues. This liberates service agents to higher-level tasks. What's more, users don't need to learn a specific tool or interface, they can simply talk or text the virtual assistant to get the answers they need. So, if you already have investments in ServiceNow and interested in real issue resolution then Avaamo can help you get started immediately.
Comprehensive C-AI capabilities is a must-have for enterprise wide deployments
Being enterprise-ready requires not just a platform that can check all the security and compliance requirements, but also provides a rich set of tooling allowing various defined users in the enterprise to be involved in the lifecycle of a virtual agent. With a comprehensive set of tooling for design, lifecycle management, deployment, and learning, we enable enterprises to rapidly deploy virtual assistants that, importantly, scale across the enterprise.
We are very excited about the progress our team has made in the last few years and the wide variety of use-cases that our platform is getting used for in the enterprise from automating IT ticket resolution to responding to HR or finance related questions for employees. Today, we have virtual assistants deployed globally that are automating billions of conversations every day, across 100's of enterprises in 40 countries and answering queries in in 29 languages. We are just getting started on the journey and would love to see how we can help you in your journey with Conversational AI and Virtual Assistants.