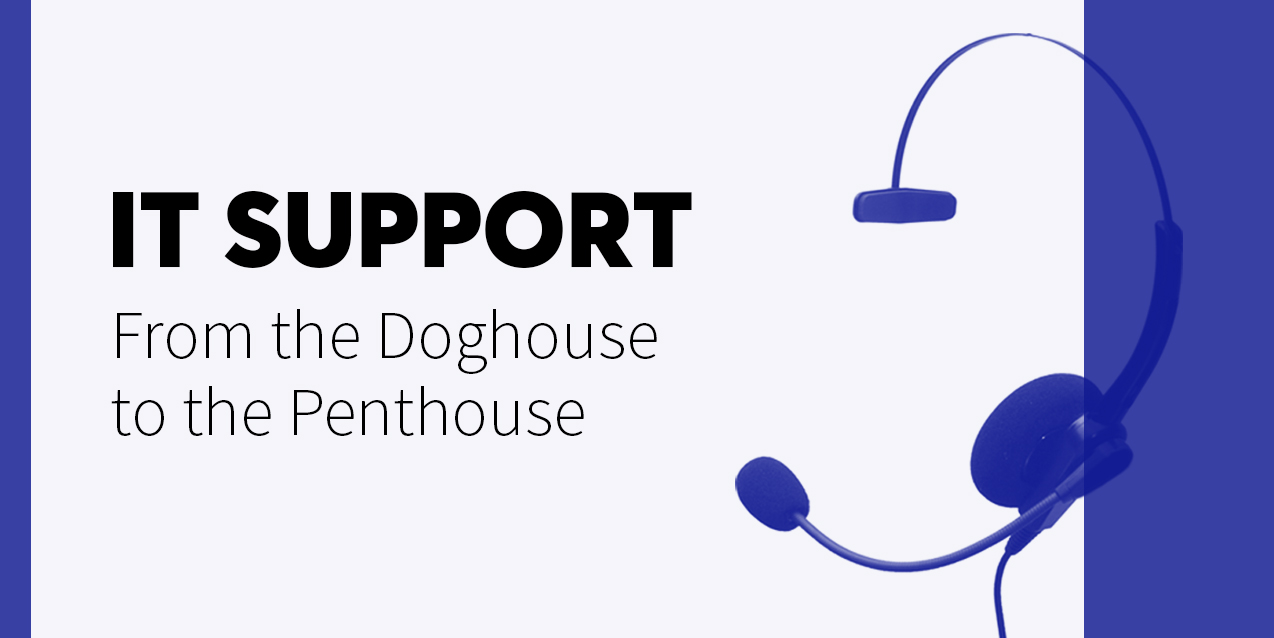 09 Jan

IT Support: From the Doghouse to the Penthouse

Traditionally, we've been selling the value of call deflection that a conversational virtual assistant can deliver. Although this is a consideration for the customer call center, this justification may not be very effective in the service desk. Rather than deflection, companies are looking at this more as a way to prevent the call in the first place. They're looking for call prevention through self-help and automation, delivering better experience and higher productivity across the enterprise.

IT Support? What Support?

In most enterprises, service desks that support employees for IT, HR and legal inquiries are cost centers. The value they bring to the enterprise is often hard to see, and as such these service desks are usually underfunded and understaffed. Employees that want help are more than welcome to enter a service ticket and wait for a response – at some point.

In this model, employees just don't get the service they need, which can have a dramatic effect on their productivity. Either they spend time trying to fix an issue that they don't have the skill to address, or their deliverables simply suffer, as they forgo the use of tools or information they need. Effectively making users "figure it out" themselves is not a path to a productivity.

Let's Rethink This

What if there were a way we could help these users help themselves, rather than piling it all on the understaffed support desk? What if users had access to this self-help capability 24 X 7 X 365, and they could get it in virtually any language they needed? What if 30%, or 50% or maybe 70% percent of your employees' issues were resolved without having to connect with the support desk at all? It's safe to say that the enterprise who does this would achieve:
Higher productivity for the staff as a whole
Lower IT support costs
Support desk finally moves out of the doghouse

What's the Answer?
Conversational AI technology, like that from Avaamo, can help deliver this vision. With such technology, enterprises can build virtual assistants that fully automate issue resolution. A user interacts with a virtual agent in a way that's very similar to how she might interact with a live agent (if one were available to speak with) – in a natural conversation. The virtual agent can be trained to resolve issues of great complexity, and it can do so at any time and in virtually any language.
Avaamo has delivered virtual assistants for internal employee support across multiple industries and across continents in multiple languages. The thought-leading enterprises that have adopted this technology have driven huge value into their organizations. In one instance, a seemingly modest reduction of 15 minutes per employee, per week in the resolution of IT issues per week resulted in 3.5 million dollars in savings. That was accompanied by a reduction in IT support costs. And IT moved from the doghouse to the penthouse!
Contact me. I happen to be a live person, and I for one would love to have a conversational with you!