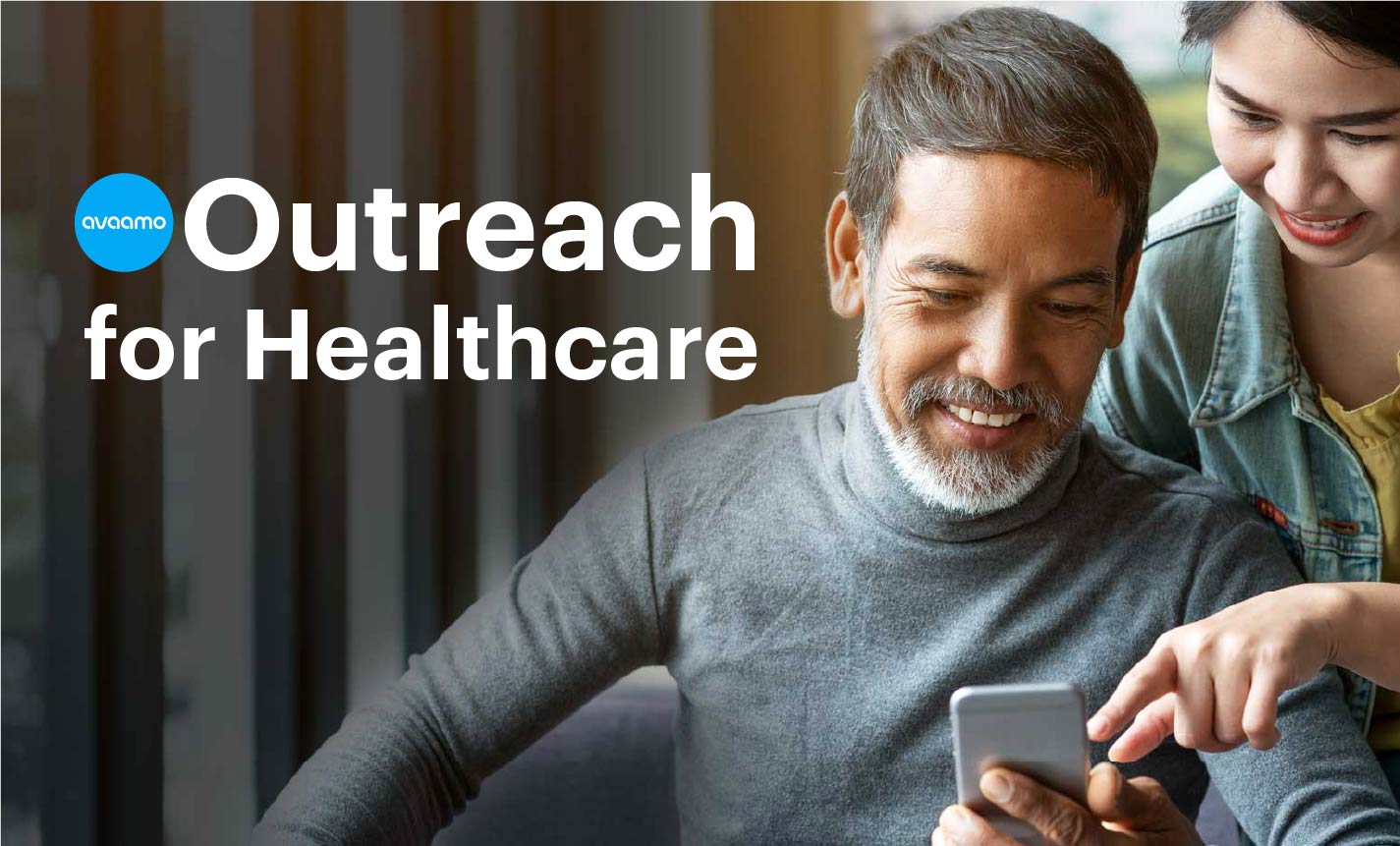 28 Jul

Announcing Avaamo's AI Outreach for Healthcare
Move beyond passive communication to active patient engagement

In the ever-evolving landscape of healthcare, patient communication today is the critical factor ensuring better care outcomes and patient satisfaction. Patients today are demanding pro-active, personalized and timely outreach. Recognizing this need, Avaamo adds Outreach for Healthcare to its powerful ecosystem of healthcare solutions. Outreach for Healthcare goes beyond standard patient communication platforms with an AI-first approach that fosters active patient conversations and engagement at every touchpoint throughout their care journey.
Notifications magically transformed into meaningful conversations
Avaamo's Outreach for Healthcare was born out of a desire to address the limitations of existing patient communication platforms. In the conventional setup, patients often receive simple one-way texts or notifications without adequate opportunities to seek clarification, follow-up questions, or provide feedback. This lack of engagement leads to frustration, missed appointments, and worse, non-adherence to treatment regimens, compromising patient health and overall outcomes.
Leveraging Avaamo's industry leading conversational AI, trusted by the nations best hospitals, our Outreach solution bridges this communication gap with a personalized conversational approach. Every notification is a bi-directional conversation, personalized to the patient. Just a simple "ask" and the patient can get whatever information they are looking for, from where to park to medication refills.
Outreach purpose-built for Healthcare
Designed from the ground-up, our Outreach software offers all the features you need to create, manage, and deliver care campaigns at scale on all available touchpoints, in over 114 languages.
Pre-built campaigns & templates
Create scalable voice or text campaigns to reach a few patients or thousands using your patient lists from Epic, Cerner, or physician databases. Built-in filtering will target specific recipients. Build templates to easily reuse your campaigns.
Dynamic customized messages
Create dynamic messages with personalized recipient data pulled from your systems of record. Advanced filters can be applied to narrow the scope to exactly who you would like to contact.
Analytics & statistics
We can track the progress of your Campaigns at any time to measure there effectiveness. What's more we also analyze conversational data.  Conversational data provides valuable feedback because it reveals in realtime what your patients are communicating allowing you to truly understand your patient journey.
Out-of-the-box automation across healthcare use cases
Avaamo's Outreach offers an ecosystem of prebuilt campaigns and templates across common healthcare use cases to get your campaigns launched out-of-the-box.
Patient care updates
Outreach can alert and remind patients of the availability of test results, changes in care, appointment prerequisites, and much more.
Medication reminders and symptom check-ins
Inadequate communication is a significant contributor to medication nonadherence. Outreach can alert patients that their medications are due to be refilled, and even when they are ready for pickup. This personalized approach encourages patients to adhere to their care plans and reduces preventable emergency department visits.
Healthcare equity
Outreach can notify patients of hospital services (new locations, new vaccinations, new programs) in up to 114 languages.
Reduce Missed Appointments with Appointment Reminders
Missed appointments not only impact the provider's revenue but also delay patients' access to care. Outreach reminds patients of upcoming appointments, with the option to cancel, and gives follow-on steps to reschedule.
Emergency notifications
When outbreaks, outages, cancellations, etc. happen, Outreach alerts affected patients with guidance — instantly and at scale.
Avaamo's healthcare solutions are transforming the patient experience in the nation's best hospitals.
Avaamo continues to build upon its powerful ecosystem of healthcare solutions
As patient expectations evolve, healthcare providers must embrace innovative solutions like Avaamo's Outreach for Healthcare to deliver patient-centric care effectively. By partnering with Avaamo and leveraging the power of Conversational AI, trusted by the nations best hospitals, providers can elevate their patient engagement strategies, driving better outcomes and building stronger patient-provider relationships. Together, we can move beyond patient communication into a new era of active patient engagement in healthcare.
Explore Outreach for Healthcare