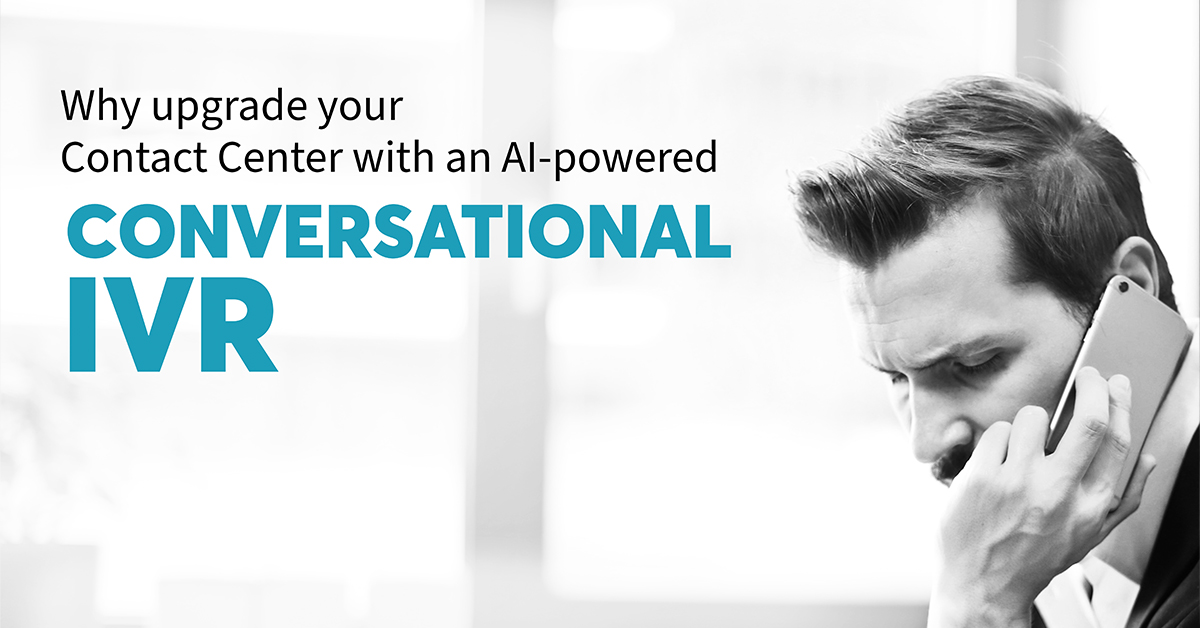 19 Nov

Why Upgrade Your Contact Center with an AI-Powered Conversational IVR

Customer experience becoming a business priority

No matter the industry, organizations of all sizes today seem to be obsessed with customer experience. And rightfully so, as customer experience (CX) has become a competitive advantage for many businesses to drive customer loyalty and revenue.

At the heart of the customer experience is the contact center — and despite the advent of online customer service channels such as chat, social media and more, contact centers are receiving more calls than ever.

Stagnation in the customer experience

The problem is that IVR technology has not changed much in recent years. In the '80s, large enterprises adopted IVR systems to act as the first customer touchpoint. Since then, call waiting, call deflection, call back and more have been added to improve, hack, and provide nips and tucks to an aging infrastructure.

As a result, the customer experience as it relates to the call center has stagnated. And in today's world where consumers expect businesses to provide immediate service, it's no longer acceptable to make customers navigate through confusing IVR menus and wait to speak to a live agent.

Why consider an AI-driven IVR

The concept of automating customer self-service is not new. However, the ability to automate multi-turn conversations effectively and do it in a personalized way is. An AI-driven conversational IVR enables end-users to simply state what they need and receive immediate help. Plus, unlike the rigid experience provided by traditional IVR systems, an AI-driven conversational IVR can adjust the flow of the conversation based on input from the end-user.

What a virtual agent can do for you

Modernizing the call center doesn't have to be a daunting task. Conversational AI technology works with existing contact center infrastructure and integrates with existing systems of record to deliver a personalized customer experience – no overhaul of any hardware or software is necessary.

As for what can a virtual agent do, here are three practical applications to help your users get started with conversational self-service:
Information Collection
Conversational AI software integrates with your systems of record, enabling virtual assistants to automate the mundane but critical task of data collection. From customer authentication to product registration, virtual agents can capture any type of information in the same amount of time – or less – as live agent.

Automation of Certain Call Types
Virtual agents can offload certain call types from beginning to end, thereby eliminating the need to transfer to a human agent altogether. Call types that are are straightforward and process-driven (for example – checking an order status, rescheduling an appointment, or putting a system on test) are ideal for automation.

Conversational Navigation


The days of navigating a phone tree will soon be a thing of the past. Customers calling into the contact center can simply state what they need to do. The virtual agent can automatically initiate the appropriate action to deliver first call resolution, or transfer to an agent if necessary.

Want to learn more about conversational AI and the contact center? Check out this whitepaper for more information on the future of customer experience.