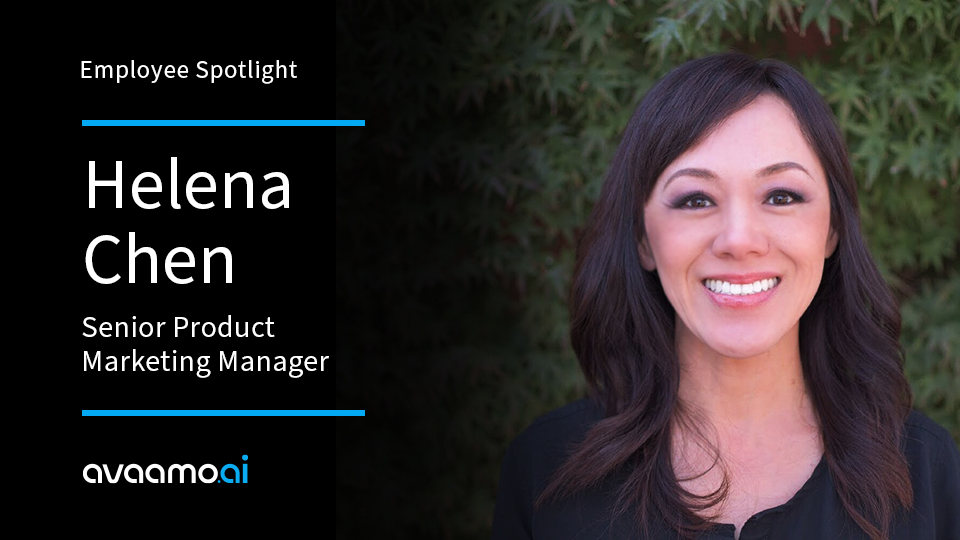 26 Nov

Employee Spotlight: Helena Chen

Here at Avaamo, we specialize in making AI, human. As such, the human aspect of our team is critical to the success of our artificial intelligence success. In this series, we want to spotlight some of our favorite Avaamo humans, and all the great work they do. 

In this edition, we meet Helena Chen, Senior Product Marketing Manager at Avaamo.

How did you find your career at Avaamo?

A recruiter reached out to me about a product marketing opportunity with Avaamo. Although I wasn't actively looking to change jobs, the company seemed really interesting. I was intrigued by the innovation they were bringing to the conversational AI space.

What is the most rewarding aspect of your job at Avaamo?  

What I find most rewarding is that I get to see the immediate impact of the things I do. There's a lot of visibility in terms of the contribution that each person brings to the company.

Briefly describe what you do at Avaamo:

As the product marketer, I'm responsible for creating and communicating the value proposition of Avaamo's conversational AI platform. Depending on the audience, this can take on different forms such as creating product collateral for our sales team, hosting a webinar for prospective customers, or holding vendor briefings for analyst firms.

What are your main hobbies outside the office?

I'm a solo mom to a very rambunctious toddler, so I don't really have any hobbies these days outside of chasing her around and keeping her entertained. Before parenthood though, I used to snowboard and practice Bikram yoga.

What are some words of advice for other people in your profession?

In my experience, the product marketing role becomes much more specialized in larger organizations. For those who want to be more involved in different facets of the marketing roadmap, I think it's definitely worth exploring opportunities at smaller companies or startups. 

How have you grown professionally in your time at Avaamo?

I really appreciate that I'm encouraged to try new initiatives that I think will benefit the company. If it works, great! If it doesn't, that's okay too — it's a valuable learning experience. Either way, it's made me unafraid to take on new challenges and I think professionally, that's pretty huge.

Which day of the workweek are you most productive and why?

Haha, I'm going to play it safe and say that I am productive every day of the week!

What is your secret skill that people probably don't know about?

I can fall asleep in the most random places. I once fell asleep while standing in a Las Vegas casino.

Describe the best meal you ever had!

There's this show called "Chef's Table" on Netflix and one of the episodes featured this female sushi chef and her restaurant, n/naka. I hadn't ever thought about how few female sushi chefs there were until I watched that. My cousin ended up taking me to that restaurant for my birthday and it was by far, the best meal I've ever had. I still think about that tasting course to this day!

Want to join a fast-growing team here at Avaamo and work with people like Helena?

We have a number of openings in our Los Altos office, and are looking for motivated professionals to make our team even more successful? Check out our open roles and apply now!