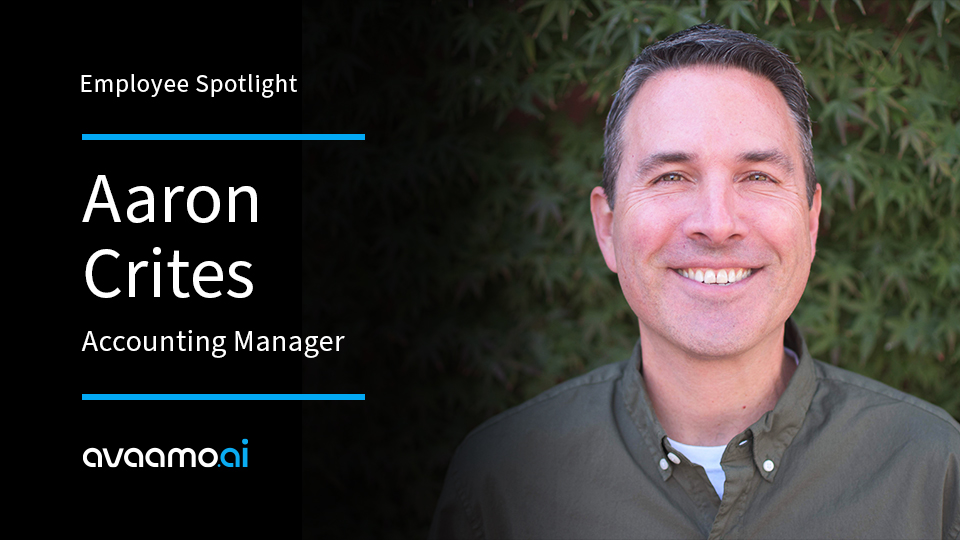 15 Nov

Employee Spotlight: Aaron Crites

Here at Avaamo, we specialize in making AI, human. As such, the human aspect of our team is critical to the success of our artificial intelligence initiatives. In this series, we want to spotlight some of our favorite Avaamo humans, and all the great work they do. 

In this edition, we meet Aaron Crites, Accounting Manager at Avaamo.

How did you find your career at Avaamo?

I found the listing on Linkedin and knowing that AI was the next big thing and reading about Avaamo's conversational AI technology, I applied right away. After speaking with the CFO and learning more, I was very excited to become a part of this growing company and the future.

What is the most rewarding aspect of your job at Avaamo?  

The most rewarding aspect is feeling a part of a team that is creating something special.

Briefly describe what you do at Avaamo:

I was brought on board to help bring the accounting process in house. I am responsible for everything from AP/AR, payroll, maintaining General Ledger, along with preparing our financials and metric reporting and working with our external auditors and tax preparers for all required filings.


What are your main hobbies outside the office?

Spending time with my family is number one. I also enjoy baseball, live music and traveling. My wife and I hope to visit every ballpark, so far we have hit some big ones: Fenway, Wrigley, and Yankee Stadium.

How have you grown professionally in your time at Avaamo?

I feel like I have more control over many processes from beginning to end here at Avaamo than I have had at other positions. There is more accountability and responsibility and it is very rewarding.

What would you tell your 13-year-old self, knowing what you know now?

One day there will be a company named Amazon, buy the stock on day one!

Where is your favorite place to travel?

My favorite place I've traveled to so far was Ireland. We went from Dublin all the way to Galway. The people were so friendly, the scenery was beautiful, and the Guinness was amazing. We even got to spend one night in a castle. I hope to go back again someday and see the northern side for comparison.

What are you currently binging on Netflix?

To be honest, our current binge is on Amazon Prime: Jack Ryan Season Two. John Krasinski plays a very moral character thrown from an analytical desk position into dangerous situations in the real world. The action and intrigue make you want to keep starting the next episode.

Describe the best meal you ever had!

The best meal I ever had was at an old school steakhouse in New York City called Gallagher's. It looked exactly how you would expect a historic steakhouse in New York to look like. The walls were dark wood and filled with tons of pictures of old celebrities, sports stars and maybe a few mobsters that have dined there back in the day. I had the prime rib and an Old Fashioned and they were both the best I ever had so far.

What are some words of advice for other people in your profession?

There are many types of careers you can have in Accounting/Finance and keep looking until you find what you enjoy. You can work in the private or public industry. You can focus on the traditional accounting path or go the financial planning & analysis route.  You can work in large or small companies. I enjoy working at startups because you get to work on every aspect of the accounting and financial planning process and are not just focused on one area.

Want to join a fast-growing team here at Avaamo and work with people like Aaron?

We have a number of openings in our Los Altos office, and are looking for motivated professionals to make our team even more successful?
Check out our open roles and apply now!