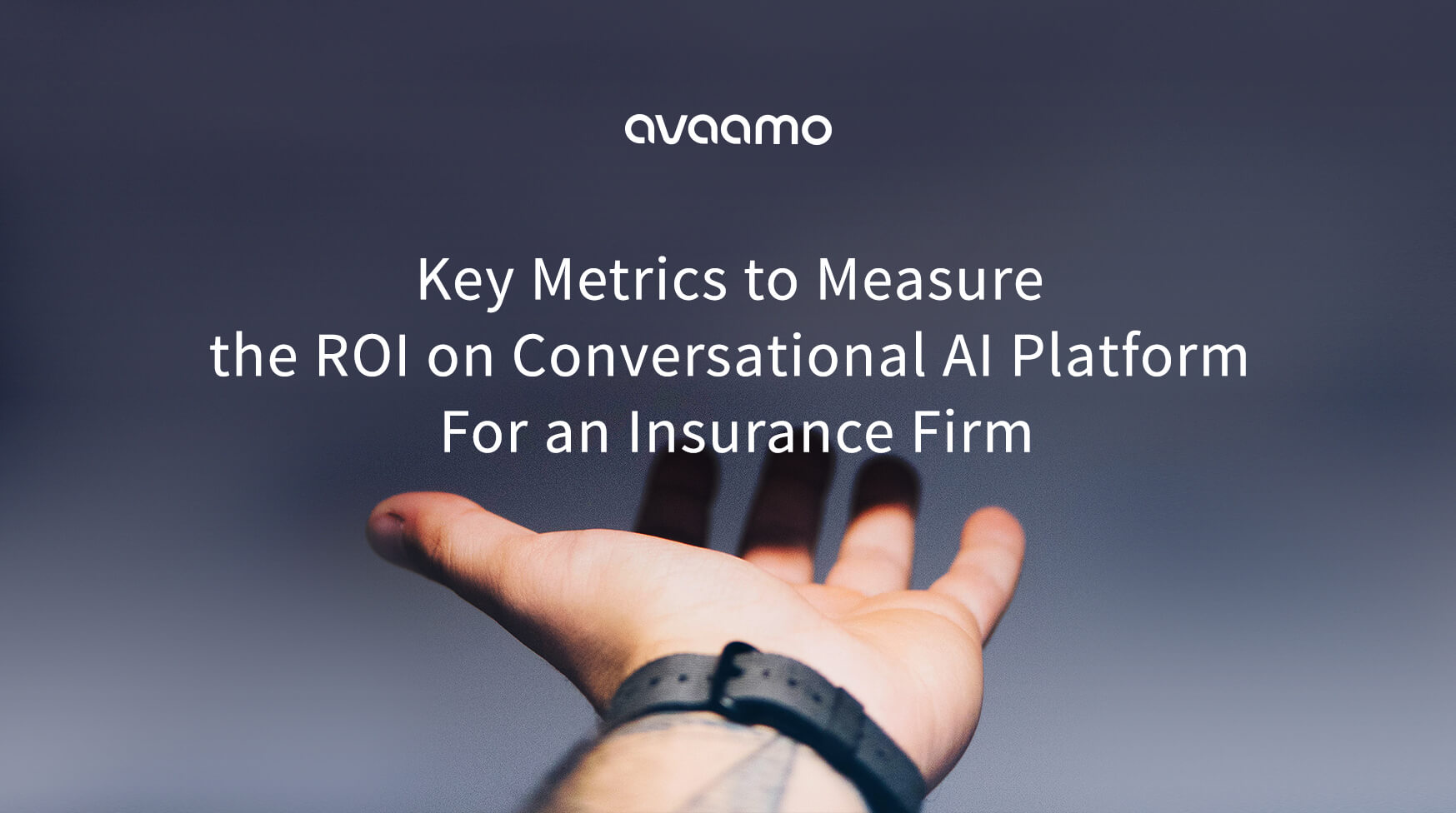 20 Mar

How can Insurance Firms Measure ROI on Conversational AI Platform and Chatbots ?

With its lengthy processes and cumbersome interactions , the $1.2tn insurance industry has a poor reputation worldwide, ranking well below below banks, car manufacturers, online shopping sites and supermarkets for their customer service and trustworthiness.

There are multiple dynamics driving change in today's industry, including a looming urge to reduce AHT and cut support expenses. These dynamics are compounded with the demand from customers to save time and experience a convenient policy purchase and a smooth claims process.

According to multiple sources, its expected that a flurry of millenials between the ages 25-34 are twice as likely to buy insurance policies online than those over 65. The emphasis on speed and ease of use across all the online channels with a desire to attract younger customer puts additional pressure on insurance firms to innovate, automate and offer a hassle-free customer experience.

But automating customer interactions make take longer than expected and its impact on the bottom line may seem a little complex to justify. In a recent survey by the Altimeter group, 69 percent of the digital transformation strategists and executives surveyed stated that a lack of ROI and impact on the bottom line was a primary challenge to justify the value of AI and digital transformation initiatives.

But how can insurance companies measure and demonstrate a return on conversational platforms and chatbots? In this blog post, we identify the key metrics that enterprise insurance firms should consider to demonstrate a size-able ROI on their conversational AI platform or on their chatbot investment.

Analyse processes, experiment with a pilot bot and create an implementation plan

Initially, to kickstart the process, insurers should assess the routine tasks to be automated, identify contextual and reflexive questions based on prior manual interactions and define certain live agent handover rules. Meanwhile, if needed, they would also need to address system integrations and API setup tasks to ensure a seamless flow of data between their internal systems to the bot engine. As a best practice, most companies start small with a pilot bot, test it out and scale up its capabilities to handle multiple functions.

Key Metrics to consider while justifying an initial investment on conversational AI platforms
C

onversational AI platform consulting & assessment costs
Pilot implementation costs
Actual Setup and Implementation costs
Platform or Bot Maintenance Costs
FAQ based conversational AI platform and Robo advisors to handle routine queries
A simple FAQ conversational bot provides a host of opportunities for an insurance firm to measure and improve its operations.
Talking about automation and AI, Juniper Research recently predicted that chatbots could save businesses $8 billion annually by 2022, and that number will only climb as the bugs are worked out. Each chatbot inquiry saves 4+ minutes of customer service time. For large companies, that's more than their desired ROI outcome annually.
Robo-advisors along with the FAQ bot hold the potential to dramatically change the dynamics of insurance advisory by not only eliminating the drawbacks of human advisors but also assisting them to develop and hone their skills. They are also gaining mainstream acceptance. According to a recent 2017 Global Distribution & Marketing Consumer Study, 7 in 10 consumers around the world welcome robo-advisory services, without human intervention, for banking, insurance and retirement services.
Few of the common use cases that can be automated using robo-advisors include: answering queries related to quotes on life insurance plans and terms, notifying customers about premium payments, updating customer profiles through policy amendments, and answering commonly asked policy related queries.
Key Metrics to measure for an FAQ bot include
Average turnaround time: AI-based needs analysis systems allow insurers to drastically  their reduce turnaround time (TAT or AHT)

Manpower or Support Personnel costs saved

Percentage(or ratio) of queries handled by the bot v/s live agents

Bot Accuracy Rate (%)
Cumulatively, insurers can also realize a host of non-tangible benefits including:
Faster access to information.
Improved customer experience
Elimination of subjectivity in response or actions from employees.
Reduced need for support calls
2.AI based Virtual Assistants for underwriters
AI systems can be used to perform research, aggregate, refine and present required information to underwriters, allowing them to focus on core underwriting activities that need a lot more human analysis and intervention. Previously for underwriters precision and accuracy used to be the core goals specifically in terms of assessing a list of risks profiled for each of the policies. But today underwriters are  also addressing more human-like insurance concerns:
What events (natural, personal, professional) are likely to happen?
What are appropriate responses to a customer's current situation?
How do people in various social networks respond to insurance issues?
For example, using conversational AI platform, the account's financial score, geocode results, payment and loss history, and predictive model results can be added to the knowledge base data and fetched for selection, analysis, and pricing rules.
These are the questions that need relevant responses, not necessarily precise answers. In order to achieve the right objectives of programming relevant responses, companies must deploy conversational AI interfaces or bot builders that are capable of identifying the right intent of the questions and should be proficient enough to map it with the right knowledge graph or AI models. With the count on anomalous accounts, conversation drill-down capabilities and  dashboards, underwriters can now easily measure the account quality, production and the productivity.
Key metrics to consider are:
Number of risk profiles/accounts assessed by each underwriter
Time taken to assess each account
Number of accounts flagged by anomalies
Number of questions addressed by the bot
3. Lead generation tracker
Sales people have habitually complained about the lack of ways to measure the probability of a lead translating into a successful sale. Moreover, lead generation and lead attribution tasks are associated with continued documentation work at every touch-point.
Conversational AI platforms and chatbots can ease the burden of sales agents by helping them easily track their lead status, meeting schedules, lead scores and more by integrating with their company's existing CRM system, enabling the agents to focus on key lead conversion activities. The self learning capabilities of a bot can be utilized to assist agents to discover lead conversion chances, up-selling and cross-selling probabilities. These leadgen bots can also be used as a source to communicate about the company's latest products, processes, policies and prevailing rates for multiple verticals within the company.
Leadgen bots can be deployed using multiple languages and across multiple platforms including mobile app, Facebook or on web. They can also be integrated with rewards portal to instantly incentivize the agents.
Few Key metrics to Measure include :
Time taken to act on an inbound lead
Lead-to-quote conversion rate accuracy predicted by the bot
Improvement in lead conversion rates
Comparative analysis of the time spent on lead status update tasks by sales agents before and after implementing the lead bot
Feedback on the improved productivity rate of sales agents
Overall, Conversational AI platform and tools can help empower insurance firms by reducing the effort spent on routine tasks , providing contextual information, both in terms of measurable metrics or subjective insights and supporting decision-making process across multiple touch-points.
To learn more about how insurance companies can leverage conversational AI platforms, watch our AI-Insurance webinar on how one of the largest life insurance firms in Asia handles over 1 million queries per month using Avaamo's Conversational AI chatbot platform.
In addition to the above mentioned metrics, we look forward to your suggestions on adding any other tangible and intangible metrics that can help insurers track ROI on their bots and conversational AI platform.
About the Author: 
Amrutha Aprameya is product marketing manager at Avaamo Inc by profession and is a passionate blogger by choice. She believes in marketing tech products that deliver real business outcomes and writes extensively about the prevailing trends in AI, SaaS Technology, Analytics, IT management, consulting trends, and social causes.